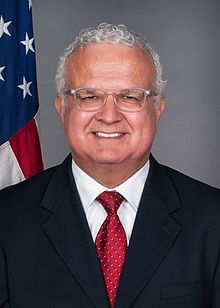 Carlos Moreno is one of the first Latinos to graduate from Yale. He helped establish the Latino community by founding "Los Hermanos," which is the present day M.E.Ch.A. In October of 2013, Justice Moreno was confirmed by the US Senate as the new US Ambassador to Beliz.
Prior to his nomination as Ambassador, Justice Moreno was Of Counsel at Irell & Manella LLP. Prior to joining Irell & Manella he was sworn in as an associate justice of the Supreme Court of California on October 18, 2001, following his nomination by Governor Gray Davis. He stepped down from this post in the spring of 2011.
Justice Moreno began his career as a deputy city attorney with the Los Angeles City Attorney's office, prosecuting criminal and civil consumer protection cases and handling politically sensitive and legislative matters as special counsel to the city attorney. He then joined the firm of Mori & Ota (now known as Kelley, Drye & Warren) in 1979, representing institutional clients in the firm's general commercial litigation practice.
In the fall of 1986, Governor George Deukmejian appointed Justice Moreno to the Municipal Court, Compton Judicial District, where Moreno handled general criminal matters and supervised the court's civil department. In October 1993, Governor Pete Wilson elevated Justice Moreno to the Los Angeles County Superior Court, where he presided over felony trials in downtown Los Angeles.
Justice Moreno was then nominated to the federal bench by President Bill Clinton and in February 1998, he was unanimously confirmed to the United States District Court for the Central District of California by the United States Senate. Moreno served as a federal district court judge for over three years, presiding over a broad range of complex civil and criminal matters.
Justice Moreno has served as President of the Mexican American Bar Association and has been a member of the California Judges Association, the Presiding Judges Association, and the Municipal Court Judges Association of Los Angeles County. He has served on the Board of Visitors of Stanford Law School and the Board of Governors of the Association of Yale Alumni. He is a Director of the Arroyo Vista Family Health Center and a former President of the Yale Club of Southern California. In 1997, Moreno received the Criminal Justice Superior Court Judge of the Year Award from the Los Angeles County Bar Association, and in 2003 the Roger J. Traynor Appellate Justice of the Year Award from the Consumer Attorneys Association of Los Angeles. Justice Moreno served as Chair of the California Blue Ribbon Commission on Children in Foster Care. He now chairs the Judicial Council's Bench-Bar-Media Committee.
Biography taken from the California Courts website.