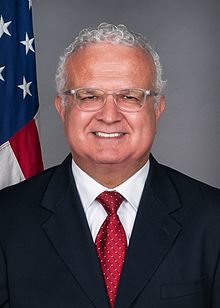 Established in the fall of 2009, the Justice Carlos R. Moreno Prize is awarded annually to the best senior essay focusing on the field of Latinx Studies, or on the Latinx experience in the United States. A faculty committee will select the winner who will be announced during the 2022 commencement ceremonies.
The Justice Carlos R. Moreno Prize honors the work and life of celebrated Latino alumnus Carlos R. Moreno, who was perhaps the first Yale undergraduate to write a senior essay in the field of Chicano Studies. Among the first Latinx students to graduate from Yale, he helped organize the Latinx community by founding "Los Hermanos," which later became MEChA. In October 2013, the U.S. Senate confirmed Justice Moreno's appointment as the U.S. Ambassador to Belize, a role he served in until January 2017. Prior to becoming ambassador, he served as Associate Justice of the Supreme Court of California from 2001 to 2011. 
To apply for the Prize, please complete the application on the following page and submit your essay by the deadline: Friday, April 29, 2022 at 12 pm.
Guidelines: 
The Justice Carlos R. Moreno Prize is open only to students who are currently enrolled in Yale College.
Only senior essays completed in Fall 2021 and Spring 2022 are eligible for consideration.
Any essays that exceed the file size limit may be sent electronically via YaleBox or the Yale Secure File Transfer to ritm@yale.edu